Pet Island
Edit
A defining feature of TLBB is the many pets that are available for you to capture, breed, and raise. You can have anything from a cute rabbit, a majestic peacock, a terrifying tiger, or a mischievous monkey, just to name a few. As well as looking awesome and adding some chic style to your character, pets also play a crucial role in the player's performance.
The primary function of pets in TLBB is to support the combat function of a player. Pets can compliment the strength attack, spirit attack, or even the agility of a player. Pets are crucial for PVP or PVE. Pet capabilities and capacity is just as, if not more important, than player's capabilities.
Pets can not only provide important buffs for their players, but can also deal incredible damage to an opponent, sometimes far greater damage than a player can do themselves.
Therefore having the right pet/s to suit your playing strategy is essential.
Gotta Catch 'em All: An Overview
Edit
Pets can be obtained in a number of ways: you can get one as a prize from an NPC, you can hatch an egg obtained from your novice pack, you can breed a pet with a friend, or you can catch your very own.

First of all, if you haven't done the "First Pet" quest, I suggest you do that first as it will teach you the basics of catching your first pet. To start the quest simply visit Master Zhao at Da Li (160, 156).

So, you have done the "first pet" quest, you know how to catch 'em all, but where can you catch 'em all?
Getting to Pet Island
Edit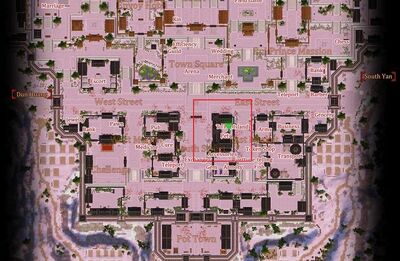 Pets are mainly (but not exclusively) caught on
Pet Island
. Unlike many cities or locations in TLBB, Pet Island is not reachable on foot or mount. The only way to get to Pet Island is via Cherry Yun in
Luo Yang
(182, 155).
Cherry Yun is located at the Pet NPC at Luo Yang as labelled on the city map.
Talk to Cherry Yun and she will teleport you to Pet Island.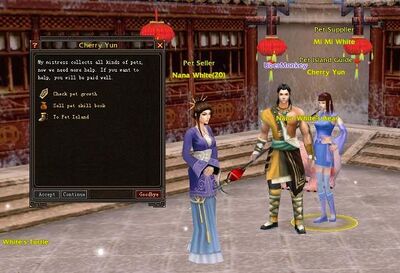 Pet Island
Edit
Pet Island is inhabited by a range of various wild creatures that are located in mobs throughout the island. These range from low level swallows all the way up to Stegosaurus'.

All mobs are wild creatures, so, for example, a Monkey will be a level 15 "Wild Monkey" when it is part of a mob.

Killing the mobs will spawn either a catchable wild version of that creature, a young version of that creature (level 1), or a rare version of that creature (level 1). For example, killing Wild Monkeys may spawn a catchable level 15 "Wild Monkey", level 1 "Young Monkey", or level 1 "Rare Monkey".

Successfully catching a spawn will place that spawn into your pet inventory as your very own pet.

Not every kill will spawn a catchable pet, and the spawn rates between the different kinds of spawns is varied too. Wild and young catchable creatures spawn at a far greater rate than rare catchable creatures do (hence the name, lol). Wild are by far the most frequent spawn.

Catchable spawn are easily identifiable by their name, which will turn blue/white when it becomes catchable and your mouse pointer will take on the appearance of a pet collar.

Also please note, the number of pets that you can carry in your pet inventory will depend on you character's level. You will commence with 2 slots available for pets, which will increase by 1 every 20 levels. The maximum number of pets you will ever be able to hold is 6.
Pets, Types, and Locations
Edit
The following is a location map for the various catchable pets on the island and their type.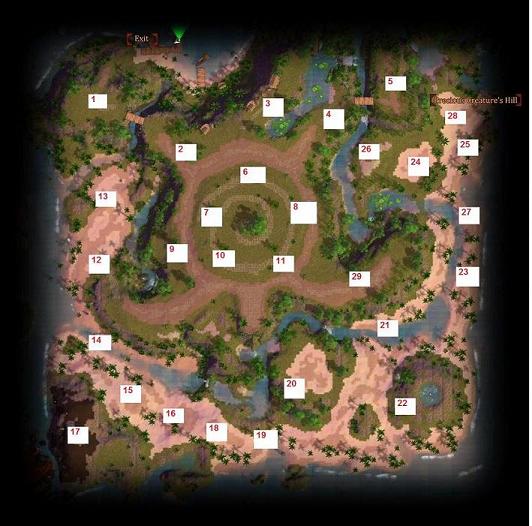 | | | | | |
| --- | --- | --- | --- | --- |
| Location | Pet | Level on Pet Island | Minimum Level Required to Summon | Type |
| 1 | | 5 | 5 | Distributed |
| 2 | | 5 | 5 | Spirit |
| 3 | | 5 | 5 | Physical |
| 4 | | 15 | 5 | Spirit |
| 5 | Puppy (Dog on autopath) | 15 | 5 | Physical |
| 6 | | 15 | 5 | Distributed |
| 7 | | 25 | 5 | Physical |
| 8 | | 25 | 5 | Spirit |
| 9 | | 35 | 5 | Distributed |
| 10 | | 25 | 5 | Spirit |
| 11 | | 25 | 5 | Agility |
| 12 | | 35 | 5 | Physical |
| 13 | | 35 | 5 | Stamina |
| 14 | | 45 | 45 | Agility |
| 15 | | 45 | 45 | Physical |
| 16 | | 45 | 45 | Physical |
| 17 | | 45 | 45 | Physical |
| 18 | Ostrich (Shy Ostrich on autopath) | 55 | 55 | Agility |
| 19 | | 55 | 55 | Agility |
| 20 | Silkworm (Young Icy Silkworm on autopath) | 55 | 55 | Spirit |
| 21 | | 65 | 65 | Stamina |
| 22 | | 55 | 55 | Agility |
| 23 | | 65 | 65 | Spirit |
| 24 | Unicorn (Wild Unicorn on autopath) | 75 | 75 | Physical |
| 25 | | 65 | 65 | Distributed |
| 26 | Rhino (Rhinoceros on autopath) | 75 | 75 | Stamina |
| 27 | Sharp Tooth Tiger (Sharp Toothed Tiger on autopath) | 65 | 65 | Agility |
| 28 | | 75 | 75 | Stamina |
| 29 | | 35 | 5 | Distributed |
Pet Types
Edit
Agility refers to the pet's ability to increase accuracy and evasiveness.
Stamina refers to the pet's ability to increase physical defence.
Physical refers to the pet's ability to increase strength attack.
Willpower refers to the pet's ability to increase spirit defence.
Spirit refers to the pet's ability to increase spirit attack.
Distributed refers to the pet's shared enhancement.
Island Guardians
Edit
Pet Island is also inhabited by Island Guardians and Toads who protect the island's inhabitants from players that attempt to capture them. At this stage (Feb, 2010) there are only the guardians and Toads, however later updates will introduce further guardians including the uber cool Invincible Cat.

Guardians and Toads are the bosses of the island and as such generally require teams and strategy to defeat. So it is not advisable that you try to kill them on your own (unless you are level 50+ and you want to go the level 20 guardian on your own).

Island Guardians are aggressive bosses that are constantly roaming the island looking for players who are farming their fellow island compadres, so make sure you avoid them unless you want a fight to the death.

Toads are generally dormant unless you attack them or you get too close to them.

The Invincible Cat roams the island with a posse of baby pets who are passive unless you attack them.

The island bosses are:
Boss Name

Level

Drops

20-80

Travelling bag and grid box

Drug recipes

Weapons and equipment

Recipes

80

Level 1 gem inlay spell

Level 1 inscribe spell

Dark silver nuggets

Cotton coth scrap

Refined iron fragment

Essence of soil

Essence of clouds

Level 1 synthesis spell

Remedy pearl

Divine fragments (not bound)

50-74

40

25, 45, 65

Travelling bag and grid box

Weapons and equipment

Sets

Drug and food recipes

Recipes

Pet skill scroll for area attack

Advanced pet skill scroll for area attack

Couple teleporting skill book: lover's call
Island NPCs
Edit
There are 2 NPCs on Pet Island:
Cha (81, 31) is the Pet Island guide and the NPC that will teleport you out of Pet Island.
Coldland Sha
Edit
Coldland Sha (84, 37) is the island's pet dealer. Coldland Sha will buy your captured pets from you for a price.
A couple of tips that you may find useful:
Whilst farming pets on Pet Island you will be constantly attacked by the Island Guardians who are continually roaming and very aggressive. To minimise your chances of dying whilst moving around the island make sure you travel by mount on the island wherever possible.
If attacked by a guardian whilst farming use your primary hidden skill (received from the 9 jointly signed recommendations received for completing all the beginner quests). Primary hidden will turn you invisible for 5 seconds, which will generally be long enough for the guardian to move on. Please note though, that primary hidden will stop working when monsters are 10 levels higher than you are.
When travelling on Pet Island or farming pets try to avoid paths or sandy areas as these are commonly patrolled by the guardians. Staying "off-the-track" will decrease the likelihood of being attacked.
When looking for a rare pet you will undoubtedly spawn many wild versions before finding the rare that you want. Wild pets are a good source of making money. Coldland Sha will buy your unwanted pets from you, however the higher the level of the pet the more he will pay. So you wont get much money from Coldland for your young pets, but will receive a decent reimbursement for a decent level wild pet. Level 45 wild pets, for example, will sell for about 20 odd silver each.
Wild pets carry bones, which are used for raising a pet's savvy. The higher the savvy level of a pet, the more bones that are required. This means that wild pets that carry a high number of bones (eg. 8 or 9) can be hotly sort after by players trying to raise their pet's savvy to the extreme. Therefore always check the bones of the wild pets before you sell them to the NPC and if they are holding 8 or 9 bones then it may be worth trying to sell it directly to other players.
Don't take any money to Pet Island that you don't want to lose. Pet island is notorious for dying at the hands of bosses or from Pkers. So bank your money before you go to Pet Island, or bank the money you make on the island often.
Community content is available under
CC-BY-SA
unless otherwise noted.